Company » History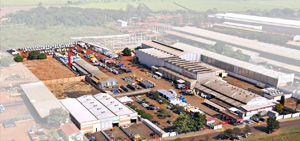 Click picture to enlarge

The origins of Gascom Equipamentos Industriais dates back to the early twentieth century, when a factory founded in Sertãozinho (SP) by Mr Fausto Gaiofatto began producing carts,troles, wagons, chariots and semitroles. With his death, in 1948, the company was renamed Viúva Fausto Gaiofatto & Cia Ltda., led by Ms Corona Zambonini Gaiofatto.

After being in control for twelve years, the widow left the company to her son Hugo Gaiofatto. The latter, in turn, continued the work of his father until the years of 1970, when he decided to pass control to his son João Carlos Gaiofatto. Soon after having taken over the family business, João Carlos changed the focus of the work and decided to manufacture industrial stoves together with his friend Diógenes Antônio Cortês.

At that moment a new career was started under the name "Gascom", which was related to gas and commerce and represents the junction of the initial letters of the surnames of the two partners (Gaiofatto and Cortês).

In 1978, Gascom underwent a significant change in its history. Thereafter, with the open market by Proálcool, the company started to manufacture tanks for stillage truck distributors, fuel transportation, water-trucks, among other vehicles.

Years later, more precisely in 1986, the company had a change in the corporate structure, assuming the board, next to John Carlos and Jairo Ferreira Lima. In the same year, the company was installed in the current headquarters and in 1993 the entire area where it is located today was acquired.

Currently, Gascom provides equipments for various sectors such as sugar cane, infrastructure, mining, forestry, agriculture and provision of public services, among others.

There is a complete line of products for machinery lubrication and machine supply in mechanized work fronts and far from their operational bases; vehicles for firefighting and fires in urban, rural and industrial areas; road tanks for mixing, transport and transfer of pesticides and fluid fertilizers; mobile workshops for maintenance and repairs in construction sites or advanced fronts; tanker trucks for potable water transportation, street washing, soil wetting and treatment, as well as a series of related equipment as cannon monitor, reel water hose, caixa-bomba, among many others.

Gascom consolidates tradition and technological innovation to meet the demands of the sectors in which it operates, offering quality products that always exceed the expectations of its customers.

Produced with state-of-the-art technology and designed to generate solutions, such products are highly reliable and for their quality and versatility have won due recognition from the market, equipping fleets of leading companies in the country and many from abroad.

Leader in the market of equipment for operational logistic support, Gascom exceeds in excellence, versatility and punctuality in its work. Gascom always has a solution to ensure productivity and protect the investment of its customers.

Throughout its more than 35 years of existence, Gascom, today with more than 400 employees, is shaped by a concrete and responsible performance through a strict and modern manufacturing process, specialized and prepared teams, application of accumulated knowledge and continuous pursuit of surpassing its customers expectations.